JWDA WINS TWO TOP AWARDS FROM SAN DIEGO BUSINESS JOURNAL 2021'S COMMERCIAL REAL ESTATE AWARDS
10.2021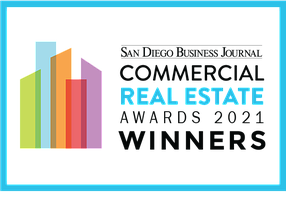 San Diego Business Journal's Commercial Real Estate (CRE) Awards showcase the most notable commercial real estate projects throughout San Diego.  Only a handful of projects make the winners list, with selections reviewed by an esteemed panel of local design, real estate and urban planning professionals.  JWDA wins big this year, with Alila Marea Beach Resort honored for Best Hospitality Project of the Year; Bosa's Diega honored for Best Mixed-use Project of the Year; and The Monsaraz San Diego, a Tapestry Collection by Hilton selected as a Finalist for Best Hospitality Project of the Year.
Alila Marea Beach Resort – Set against a backdrop of coastal bluffs, Alila Marea Beach Resort debuted in early 2021on San Diego's North County coast as the Hyatt brand's first new-build in the United States.   The resort offers 130 guestrooms including nine studio rooms, five one-bedroom suites and the Ponto and Grandview presidential suites.  Each room features coastal and garden views of the magnificent oceanfront site.  With only a few months open, the Alila Marea coveted a spot on Travel + Leisure's 15 Best Beach Resorts in the U.S.   JWDA provided full architectural services on the project.
Diega – As San Diego's largest-ever residential project with 617 units – providing a mix of studios, one-bedroom and two-bedroom apartments – this 720,000 square-foot, two-tower structure features extensive amenities including ground level retail and commercial space, state-of-the-art fitness center, and a 25,000-square-foot "sky terrace" designed by Connect Landscape Architecture.  JWDA provided full architectural services on the project.
The Monsaraz San Diego– This boutique hotel is located in beautiful Point Loma. Its design is crafted to provide an immersive and welcoming environment with an evocative and effortless use of hand-hewn materials, custom handcrafted tiles, mid-century modern furniture and inspiring art features. The nearly 50,000-square-foot hotel features 92 guestrooms that surround a 4,000-square-foot open-air courtyard comprised of an enchanting living tree, locally painted and designed mural and a living wall of plants.
Visit SDBJ for a complete list of 2021 CRE awards-winners and finalists.